In the second week of January we flew from Amsterdam to Hangzhou. After our arrival we were warmly welcomed by a Chinese delegation. As usual in China, a social occasion goes together with a lot of food. We talked about the country, culture and of course about football. You can see that the Chinese really want to become great in everything and especially in football due to the current president of China who sees this as one of the main goals for the country. The evening ended early, because of the busy schedule for the coming days ahead after.
During the trip we went to several cities in the province Zhejiang. We were invited by government departments to talk about the current status of football in their cities and how they could further develop. We have seen impressive football facilities and ambitious plans. Most of these cities we visited are cities of average size in the eyes of the Chinese. However we are still talking about cities with more than 5 million citizens. A huge potential if you compare it to the city of Trenčín. All these cities have huge sports stadiums and enough citizens to create dozens of professional football clubs. The main difference we discovered between China and Europe is the difference in mentality. Most people in China are not focused on football at the moment. The former one child policy plays a big role in this and the discipline demanded in studying and career. Almost all children will stop playing football at a certain age. Also the development structure which does not have a strong foundation yet is one of the key issues that the level of football in China is not yet where they want to be. Certainly it will take time to change this, but it is a fact that China will become successful in football in the end, if they continue to invest in football.
During our time in China, I also had the opportunity to meet some successful people. One of those people is Mr. Zhou who is the owner of the company Joinstar. The headquarters is located in Hangzhou, but to my great surprise Mr. Zhou has is origins in the village Qingtian. This place has a special meaning to me, because it is the village my grandfather was born and where my Chinese roots come from.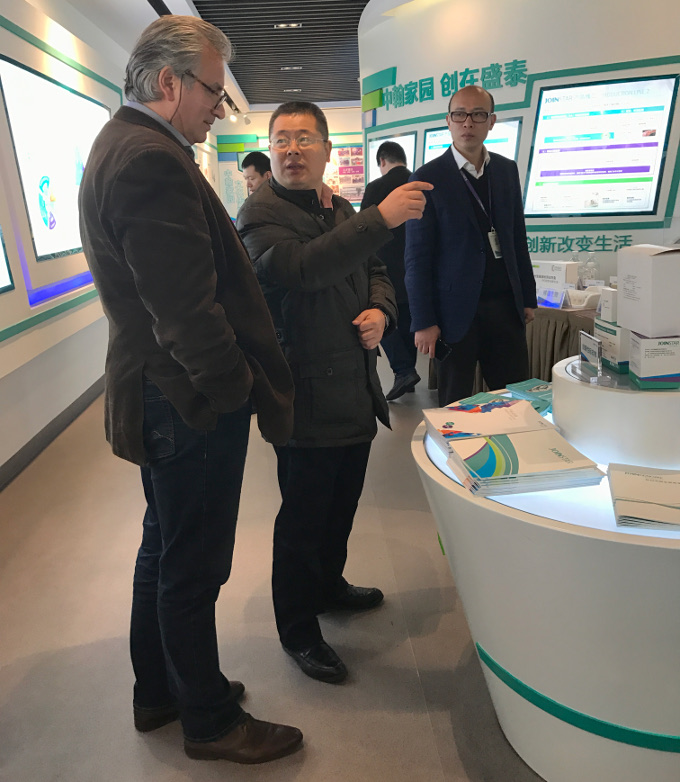 Joinstar is a Chinese company that is listed in the top 100 companies in China. Joinstar has a very important influence on the development of health standards in China. It develops high-tech equipment for hospitals and medical posts all over in China. One of the most inventive things I have ever seen, is a machine they produce that can discover all kind of diseases in an early stage. Within 10 minutes after using a drop of blood of a person it even can detect diseases like cancer. Joinstar is a very great company with a beautiful history from being a supplier of spare parts to one of the most innovating companies in the health industry. Another special thing about Joinstar is the fact they also have a foundation. The company donates and supports building schools in rural areas, because the youth is the future and they deserve a chance to study. With these kinds of projects Joinstar shows they are part of society, which makes me feel attracted to it, because we, at AS-Trenčín, have the same goal.
After visiting these places and meeting these people my trip came to an end. During this trip I enjoyed China very much. Finally I had the opportunity to see the development of football in China with my own eyes and I think that China will certainly become very big in football. With so many people and a big economy it will be a matter of time to compete on an international level with the biggest football countries. I am very glad with the hospitality that I experienced. Also the good organization of the trip by Mr. Chen Long with the delegation from Europe and all the people that I met. I hope I can do this more often in the future and also can contribute to the football in China.